Summertime is in full swing and so is the fashion! Sundresses and swimwear will always reign supreme but street style is making a bid for the crown. Read on and we'll cover our favorite trends and how to recreate these looks on your own!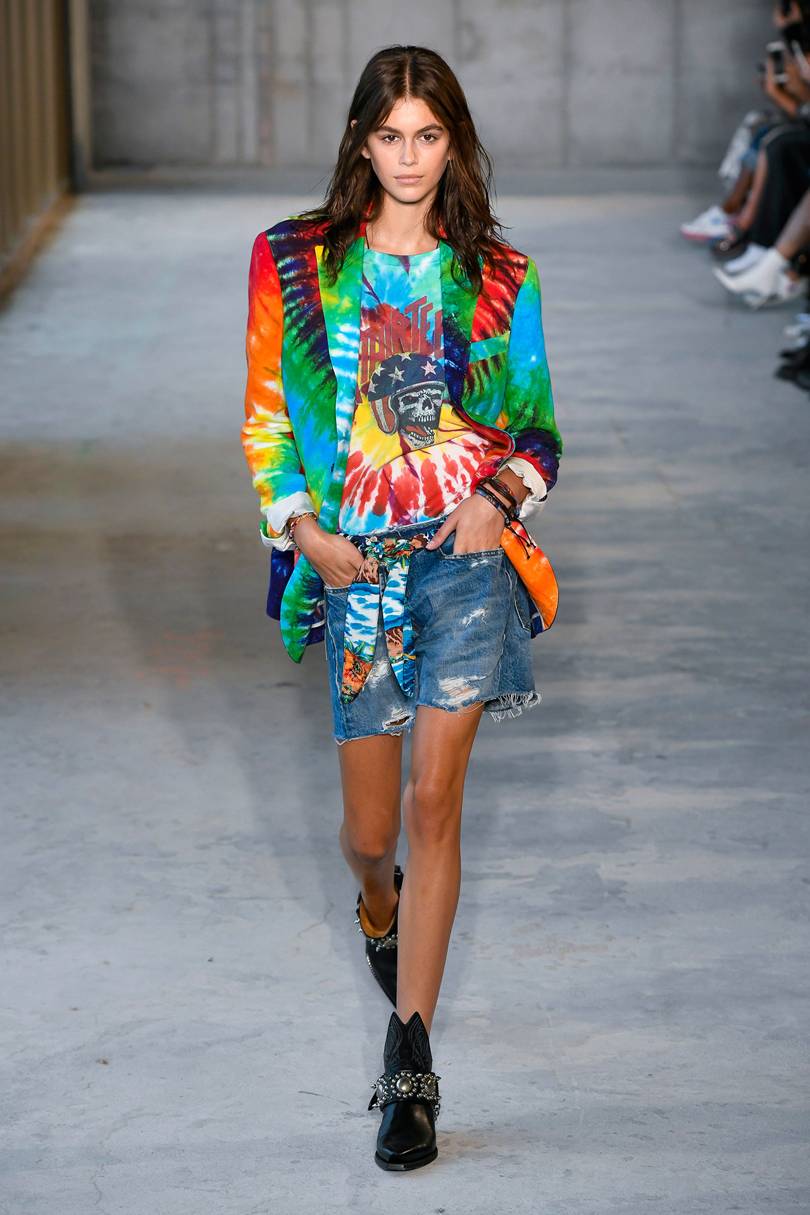 R13 (IKER ALDAMA / INDIGITAL.TV)
West Coast Roots
The Cali vibes have always been at the forefront during the summer months and this summer is no exception. Fun and vibrant tie-dye prints, Hawaiian print shirts, bucket hats, tank tops, and swimwear are the forefronts for some of the biggest fashion houses like Calvin Klein and Prada. Others opted for more "hippie" vibes with psychedelic images or soft linen pieces with delicate embroidery. 
How to: 
Casual: For a casual SoCal look, try pairing an oversized tie-dye tee, (Tie Dye Black Hipster Applique tees), with denim cut-offs and polish off your look with a pair of old-school styled sneakers like Vans, Chuck Taylor, or retro styles like the Nike Cortez to capture a relaxed LA aesthetic.
Free-Spirited: To create a more free-spirited vibe, stick to more light and flowy fabrics such as beige linen with delicate embroidery accents on dresses or long flowing skirts, finish your look off with a pair of 90's inspired slim shades and a floppy hat for all the shady beaches. 
Men's Fashion: Men's fashion didn't stray away from vibrant prints or cool linens this season, to create a chill vacation vibe for the pool, party, or even Friday at the office pair a button-down Hawaiian shirt with fitted denim cutoffs or khaki shorts for a preppier look. Top off the look with a bucket hat or dad cap (Black Hipster Dad hats) and never go wrong with Sperry's or Birkenstock styled sandals...men can show their toes too.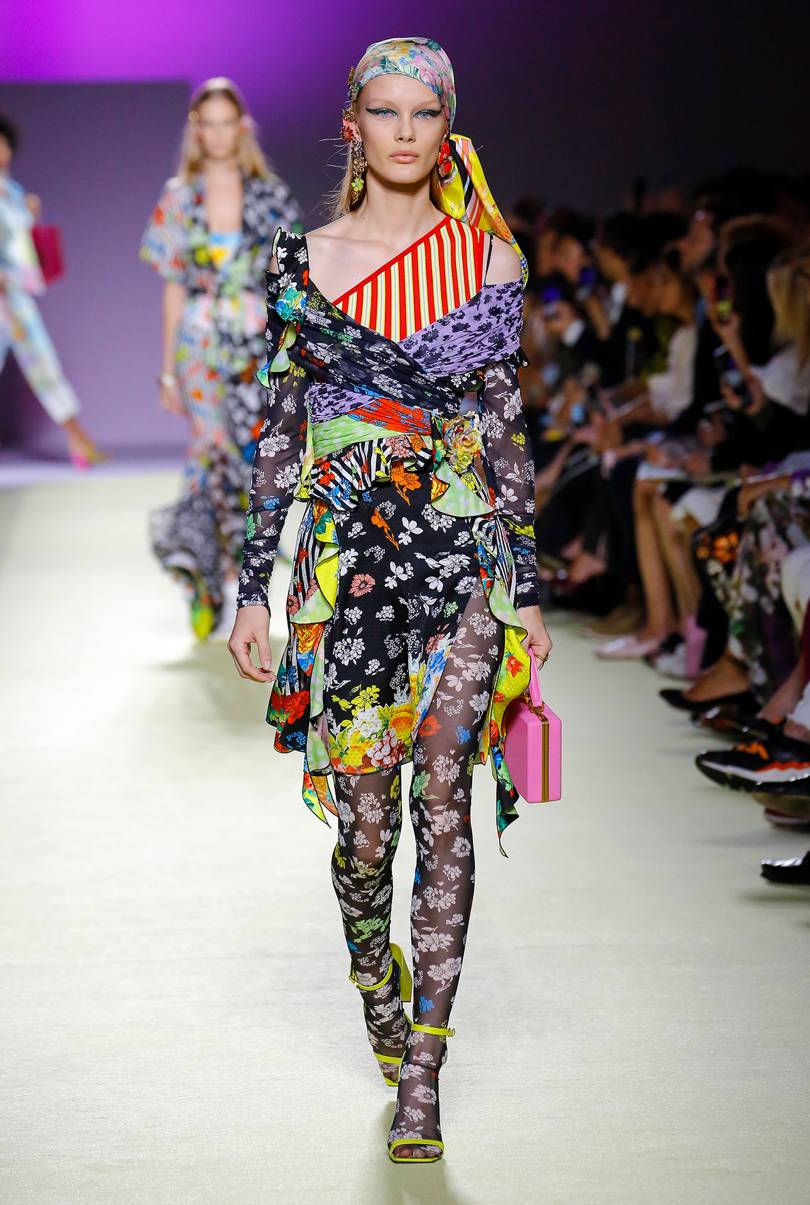 Versace (INDIGITAL)
Florals Galore
Fashion is currently obsessing over florals and bold prints and it's nearing the verge of unhealthy as all-over prints happily clashed all over summer runways. Versace, Dolce & Gabbana, and Balenciaga led the charge mixing blinding hues of yellows, lime greens, and pinks with leopard and python. These looks are not for the faint of heart, so if you're going to mix your florals and your animal prints you better commit!
How to: 
Runway-Inspired (Bold): Wanting to create a bold runway-inspired look, try pairing two bold prints within the same color spectrum. For example, Leopard printed on ice blue tops and navy floral printed skirts/bottoms paired with a solid accessory at the waist like a belt or waist purse (no large fanny packs it'll create too busy a look) can help to tie together the two opposing prints. Keep jewelry and other accessories to a minimum as well, the prints can easily clash with a bulky/overabundance of jewelry i.e. one pair of statement earrings.
Reserved Prints (Every day): For those wanting to just dip a toe in the prints on prints, try starting with a simple vertical striped base in muted or neutral colors, with bright daring floral patterns to draw the eye. Finish with few accessories to avoid the risk of getting too busy.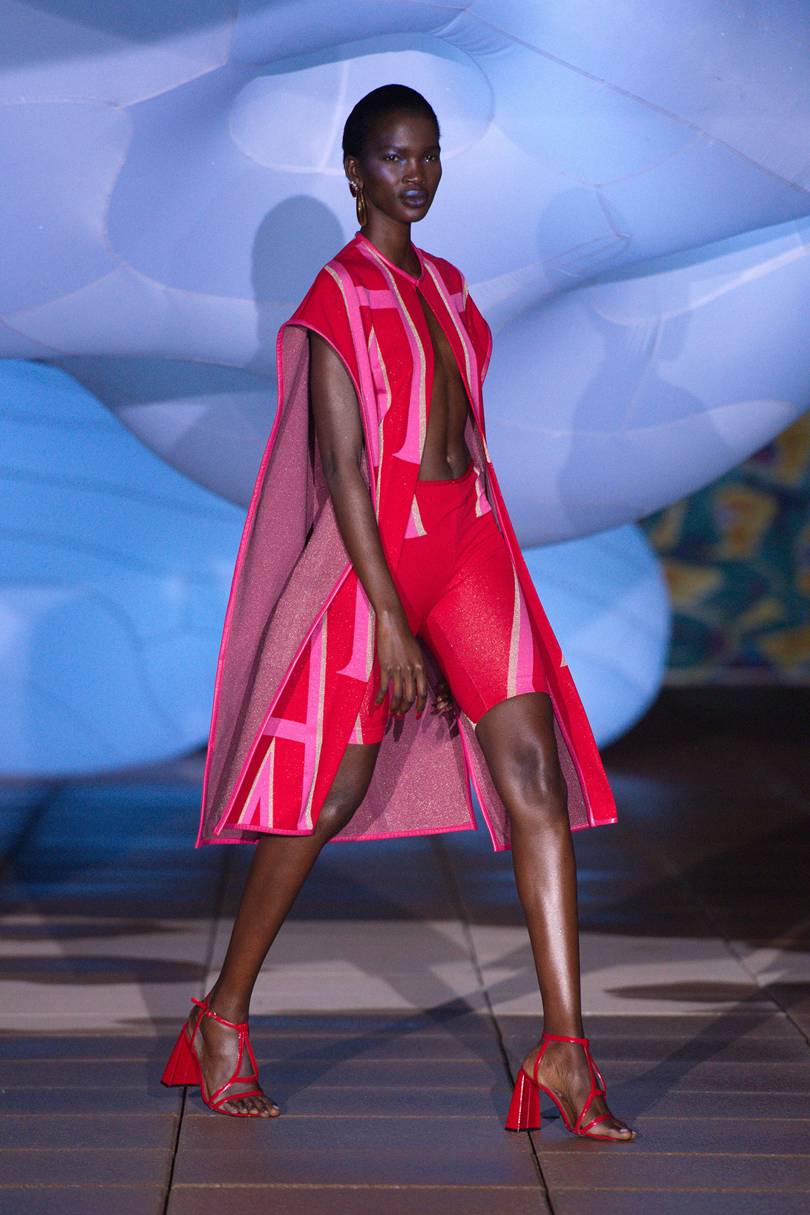 Area (INDIGITAL)
Cycling Shorts, No Bicycle
Did you know the first time cycling shorts actually hit the runway was in 1991 in a Chanel show? Cycling shorts have exploded as celebrities such as Kim Kardashian and her famous siblings have made them a closet necessity. With the street-style trend still going strong Fendi, Prada, and MSGM would be sure not to miss the boat in adding cycling shorts to their collections.
How to: 
Dressed Up: So often we see cycling shorts in a more casual light, want to dress up the look, try bright patterned cycling shorts (Black Hipster Tie Dye Cycling Shorts) with an oversized blazer in a neutral. Finish the look with heeled booties to add a daring flair. 
Street style: For a Yeezy/Kim K inspired streetwear look try pairing beige/neutral colored cycling shorts with an oversized beige/neutral hoodie (Khaki Black Hipster Hoodie) for a look cool enough for the hot summer months. Finish the look with hoop earrings, calf socks and dope tennies such high top vans or your favorite jays to commit to this athleisure look.
Simple Chic: Feeling bad a bougie drop the blazer or hoodie and rock a matching set (burnt peach cycling shorts and sports bra set) perfect for a quick photo op after the gym, music festival, or day party. Add a vintage dad cap (Vintage Denim TBH. Hat) and rock that body no matter what size. Feeling a little self-conscious, no problem, feel free to add a fanny pack or denim jacket around your waist. #bodypositivity. 
With so many fabulous looks for the summer, we were only able to feature looks for our top 3 but stay tuned we'll be highlighting our other favorite looks for summer in upcoming stories.